ABOUT WELLNESS AtoZ
Wellness AtoZ is making Arizona and the Greater Phoenix region known as a destination for healthy talent and a healthy community. It offers free solutions for all businesses, complementing existing programs or offering tools to build your own.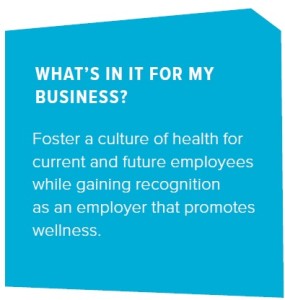 WELLNESS DRIVES BUSINESS HEALTH
Wellness programs are proven to:
Attract talent and improve employee retention
Increase productivity
Decrease absenteeism
WELLNESS AtoZ DRIVES A CULTURE OF HEALTH
Wellness AtoZ employers benefit from:
Dynamic company culture that celebrates Arizona wellness activities
Access to turnkey wellness toolkits and marketing materials
Modular tools to complement your existing wellness program
Absolutely no cost to your business, only gain
A business distinction as a recognized Wellness AtoZ employer
HOW TO GET STARTED
Wellness AtoZ is a completely flexible, modular program allowing you to choose a level of involvement that meets your needs. Once you contact the Greater Phoenix Chamber Foundation, it's easy to get started:
1. COMPLETE
the
Employer Agreement
and email to
info@wellnessatoz.org
2. RECEIVE
guidelines and toolkits for implementation
3. ROLLOUT
Wellness AtoZ to your employees and report progress as necessary
4. USE
the Wellness AtoZ logo to brand yourself a Wellness AtoZ employer today!
For more information on becoming a Wellness AtoZ Employer, contact a Wellness AtoZ coordinator at info@wellnessatoz.org.