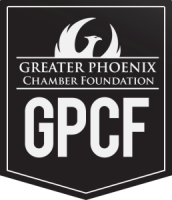 Wellness AtoZ Community Outreach Coordinator
Greater Phoenix Chamber of Commerce
The Greater Phoenix Chamber of Commerce (GPCC) is the leading business organization for the Greater Phoenix region. Our mission is to promote regional prosperity, serving as a catalyst for economic vitality and strong communities. We accomplish this through our ability to convene and connect business leaders, elected officials and community leaders; cultivate thought leadership; advocate for pro-business policies; and communicate and promote the region's strengths.
Greater Phoenix Chamber Foundation
The Greater Phoenix Chamber Foundation (GPCF) leads the charitable and education objectives of GPCC and promotes economic prosperity and quality of life for the Greater Phoenix region. The Foundation furthers GPCC's mission by conducting research, forming partnerships and hosting events focused on education, workforce development, wellness and community development.
The Foundation's charitable activities focus on improving health and prosperity for the region. Through workforce development efforts, GPCF serves as a link between industry and education, ensuring that students in the Greater Phoenix region have access to a high-quality, affordable education and related job training to prepare them for the future. Wellness AtoZ is aimed at making Arizona and the Greater Phoenix region known as a destination for healthy talent and a healthy community.
Wellness AtoZ complements existing wellness programs, highlighting best practices and offering free tools to enhance corporate wellness programs. Recently launched, we are now working to onboard Wellness AtoZ employers and build awareness of this effort. As we look to scale these efforts, we are interested in hiring people who have a passion for Phoenix and a desire to make the Greater Phoenix region a great place to live, work and play.
Who are we looking for?
The GPCF is looking for a Wellness AtoZ Community Outreach Coordinator to promote the Wellness AtoZ initiative, recruiting employers and individuals to join this community effort. The ideal candidate has strong presentation and sales skills and the ability to build and manage relationships with business and community leaders. The candidate will communicate in a strong, positive and effective manner, both verbally and non-verbally and also be a self-starter with the ability to sustain and move work forward with minimal direction. All Chamber employees are expected to work collaboratively with other departments and be team players to help accomplish our organizational mission. The GPCF is looking for a dynamic "people" person, who is interested in promoting employee wellness for the greater good of the community.
Primary Responsibilities
The Wellness AtoZ Community Outreach Coordinator will have primary responsibility for managing the Wellness AtoZ initiative. This individual is responsible for recruiting and onboarding companies as Wellness AtoZ employers and ensuring compliance with related guidelines. The Coordinator will identify events and opportunities to promote Wellness AtoZ and will work with the GPCC marketing team to create related promotional materials.
Position Objectives
• Recruit and onboard Wellness AtoZ employers through phone, email and informational presentations.
• Develop relationships with Wellness AtoZ employers and work with them to ensure program compliance.
• Oversee Wellness AtoZ subcommittees including regular communications, meeting coordination, agenda creation, room setup and clean up.
• Generate monthly themed content for LiveWell communications from various partner sources and general research.
• Work with Marketing to produce collateral for Wellness AtoZ toolkits.
• Arrange and implement quarterly WorkWell meetings at various employer locations, including arranging speakers, logistics and materials.
• Build awareness of Wellness AtoZ through various strategies, including traditional marketing, social media, events and other activities.
• Identify potential partnerships to scale Wellness AtoZ.
• Maintain monthly dashboard of metrics and identify strategies to improve results.
• Assist with BRE Team research, Monthly Partner meeting coordination and outreach as needed.
• Assist with Leadership Council meeting coordination and outreach as needed.

Candidate Qualifications:
The GPCF is looking for candidates with the following knowledge, skills and abilities desirable for job success:
• Minimum 1 year experience in sales and/or training;
• Phenomenal written and verbal communication, presentation and public speaking skills;
• Understanding of effective sales methodologies and tools;
• Possess strong organizational skills and attention to detail, ability to tackle multiple projects at once, appropriately prioritize tasks and meet deadlines;
• Must be able to provide superior customer service to both internal and external customers, at all levels of an organization;
• Able to take initiative, seek out answers to questions and follow through on tasks and commitments;
• Strong knowledge of Microsoft Windows, Microsoft Word, Excel, Power Point and database management software;
• High School GED required.
GPCC values employees who:
• Work collaboratively with other departments to accomplish our organizational mission
• Treat organization resources as their own
• Are fully engaged and participate within the team
• Present and pursue solutions as opposed to dwelling on problems
• Have a personal commitment to the end result
• Are respectful, honest and straightforward
• Do what they say they will

Application Information:
Qualified candidates should respond by sending a confidential resume to hr@phoenixchamber.com.
NO PHONE CALLS PLEASE. GPCC is an equal opportunity employer. No person will be discriminated against because of race, religion, sex, color, age, national origin, disability or any other legally protected classes.